It seems like it has been a lifetime since I have lived in Florida, but in reality, it has been a short 7 years. I don't necessary miss living in Florida. I really only miss my family and Disney, but I am spending the weekend down here because my Mom had a procedure done and I wanted to be here for her during her recovery. It is an hour long drive from her home to the hospital, and as I drive each day, I get to pass by my entire childhood….
The Clearwater beaches where I spent many a day after school soaking up the Florida sun (it is also where Winter the dolphin is located and the famous Frenchy's, with the best grouper sandwich…EVER. Period.)
My High School, one of the many places where I discovered my love for writing, as well as the realization at how geeky I really was….er…am.
My first home with the Hubster, a cozy little condo overlooking the water with all the comforts of civilization at our fingertips…not a cow in sight…
Posted signs for the Florida State Fair…oh, how I miss you fried everything…
And of course, Florida drivers….I can say that, because I am one of them. But when you gather them all in one place and then mandate the speed limit to 35mph, I go crazy…bat crap crazy….
I could go on….but I would rather show you what I have been working on this week…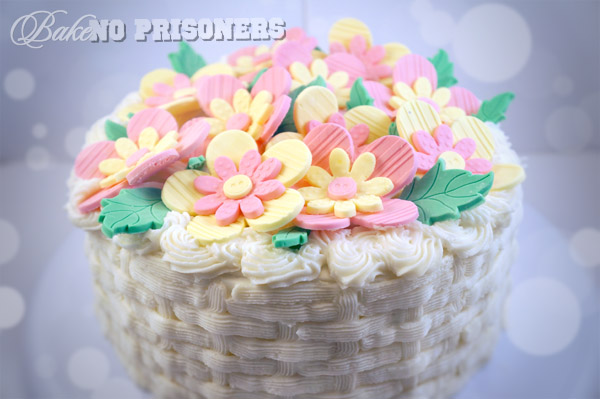 I have been taking a class to hone in on those decorating skills that I seem to be lacking in the cake department.
This is my final project.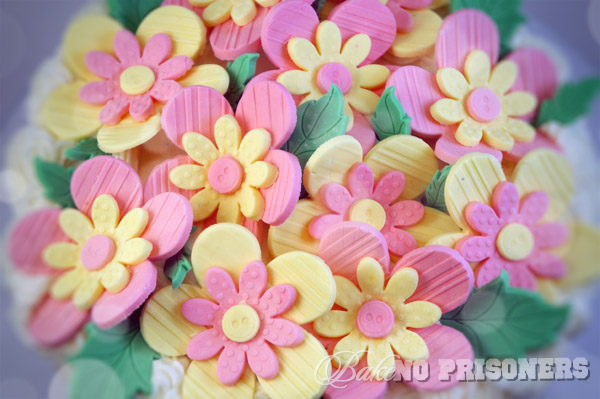 I made the button flowers out of neon fondant and gum paste.
All you do is combine a little larger than a golf ball size of gum paste with a quarter size ball of neon fondant until well blended. Dust your flower press with a combinations of cornstarch and confectioner's sugar, roll out your fondant according to the directions, and press down. Hard. Really hard. You also have to use a little tool that sort of looks like a plastic pencil to slowly score the underside to get it out of the press, but it is fairly easy.
Frosting the basket weave took a little more time to master. Thus, the title of this post…Underwater Basket Weaving.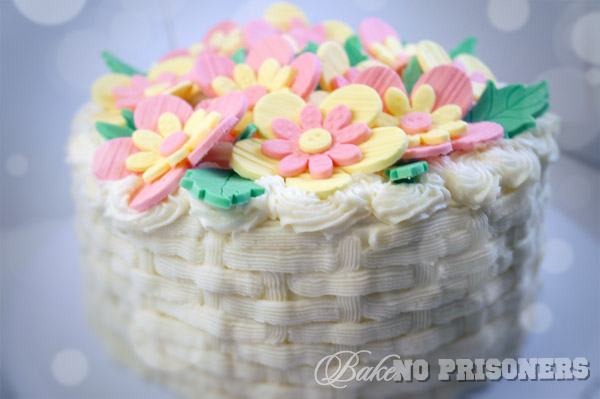 If you are part of my generation or earlier, you know what I am taking about. This idiom typically refers to a college elective one might take to improve their GPA. It is suppose to reference an easy course or one that would take little effort. That is not the case when it comes to basket weave frosting….although, once I got the hang of it, it went pretty quickly.
Pretty and tasty? Now that is a cake I can live with….
*Recipe Info: Easy Breezy Chocolate Cake