I have got so much going on for you guys in this post that I might just explode with excitement!!
First off, let me tell you that I am not your average valentine.
I don't like flowers.
I don't do expensive jewelry.
I don't even like to go out to dinner.
Weird? I know. But in our house, we like to make each other something to celebrate Valentine's Day.
(Supposedly the hubster is secretly working on a glowing Doctor Who sign for me…SQUEEE!! What else could a girl possibly want?!)
So I have made you guys something fabulous to show how much you are loved!
Lovey Mantels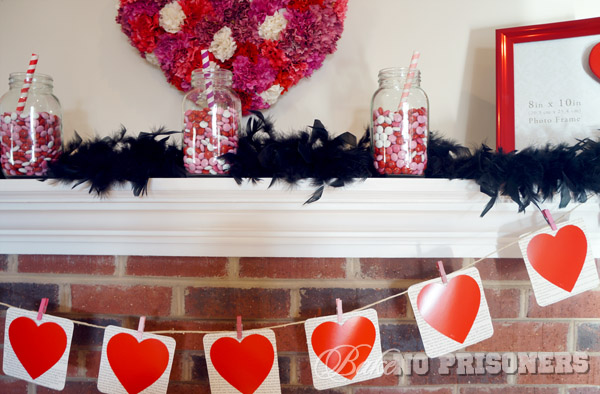 This year I noticed several blogs out there decorating their mantels for the day of L-O-V-E. Amanda Jane Brown was probably my favorite and she gave me a ton of ideas and inspiration for my own mantle. I plan to fill the red picture frame with a valentine print from the awesome Becky Higgins.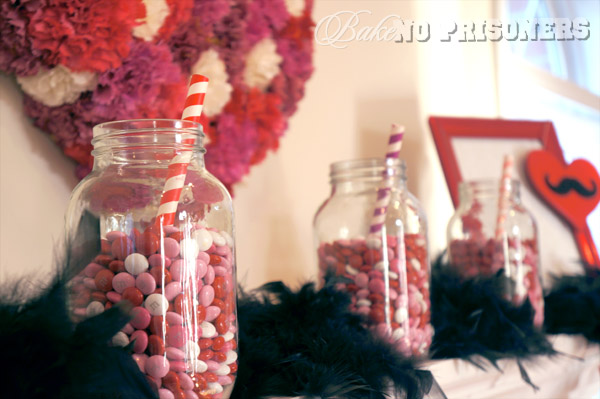 I adored Amanda's idea of valentine M&M's in mason jars and I added a junky striped straw to mine to give them a bit more whimsy.
I also love the mustache epidemic that is spreading across the nation. Anybody else? I especially love my hanging heart in the background with its little black handlebar mustache. I think it ties in nicely with the black feather boa that is draped across the mantle.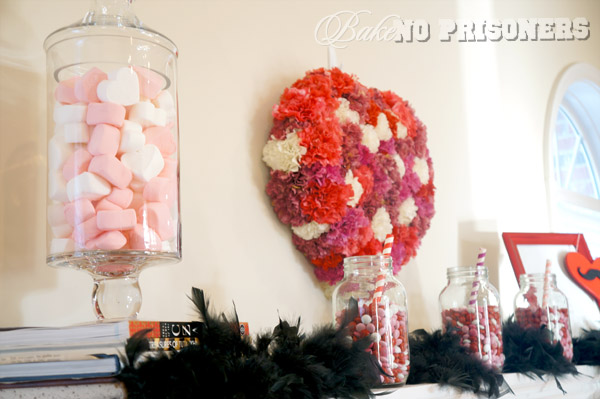 I used my apothecary jar to hold the leftover pink and white marshmallows I had after I topped my triple chocolate brownies with them.
For the wreath, I cut a heart out of Styrofoam and hot glued artificial carnations in various shades of red, pink, purple, and white. I also secured some pretty ribbon in the back, so I could hang it up.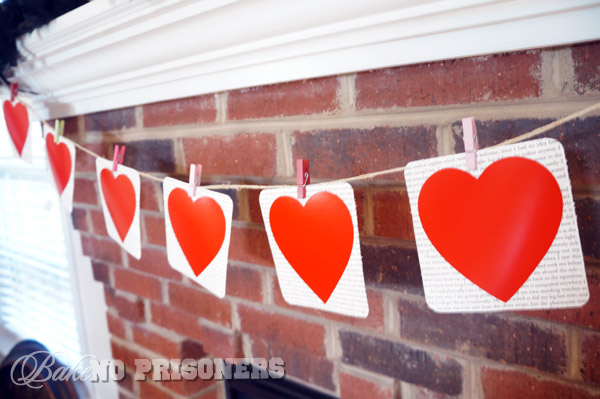 This heart banner was so quick and simple to put together. I found the hearts, twine, and mini-clothes pins at my local craft store. For the background, I just ripped out pages from an old book, trimmed them up, and round the corners. Then I just glued the hearts in the center of the book page and hung them up.
Chocolate Covered Peep Hearts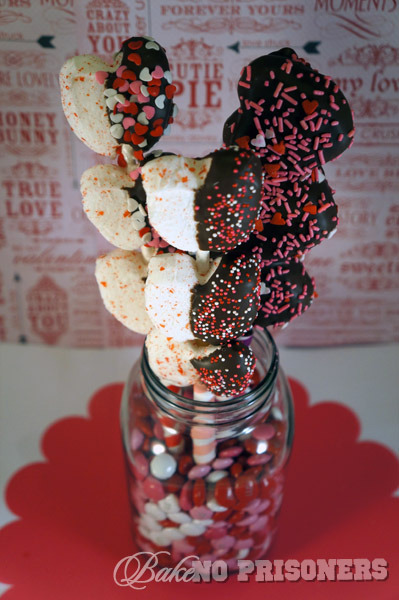 You heard me right….I found heart shaped, vanilla Peeps, dipped them in milk chocolate, and sprinkled them with love.
From me. Just for you.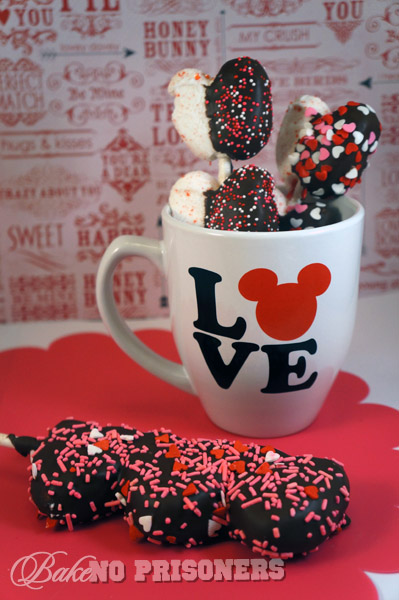 Don't you LOVE my new Mickey coffee mug?!?!?! Ahhhhh… I die.
Triple Chocolate Marshmallow Brownies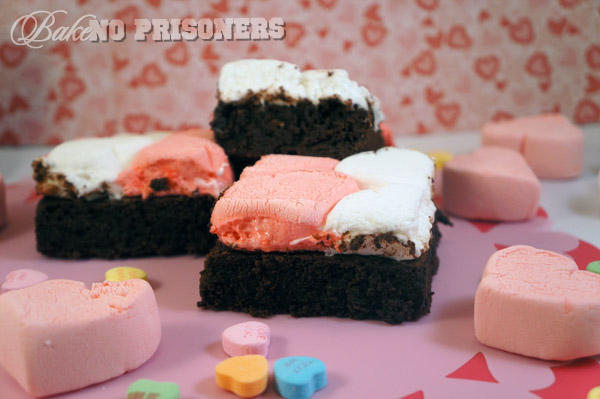 Chocolate is the only tradition I keep when it comes to Valentine's Day…and these brownies are diabolical…choco-magical if you will…and I am totally quoting someone who recently ate these when I say this.
Triple Chocolate Marshmallow Brownies
Ingredients
3 ounces semisweet chocolate
2 ounces bittersweet chocolate
2 ounces unsweetened chocolate
3 tablespoons cocoa powder
1 stick butter, softened, cut into quarters
3 large eggs, room temperature
1 1/4 cups sugar
2 teaspoons vanilla extract
1/2 teaspoon salt
1 cup all purpose flour
Instructions
1. Preheat oven to 350 degrees. Spray an 8 in. pan with nonstick cooking spray and line with 2 sheets parchment paper perpendicular to one another. Push paper down into the corners, but allow it to hang over the sides.
2. In a double boiler, melt all chocolates and butter until smooth. Whisk in the cocoa until blended. Set aside to cool.
3. Combine the eggs, sugar, vanilla, and salt in your free standing mixer for 30 seconds. Add the chocolate mixture into the egg mixture until incorporated.
4. Add the flour in two batches until just blended.
5. Pour the mixture into the prepare pan and spread evenly into the corners.
6. Bake until slightly puffed and when a toothpick inserted comes out with a few sticky crumbs, about 35-40 minutes.
7. If adding marshmallows, take out at 30 minutes, add marshmallows, and bake for an additional 5 minutes or until marshmallows have puffed up.
http://www.bakenoprisoners.com/wordpress/index.php/warning-valentine-fabulousity/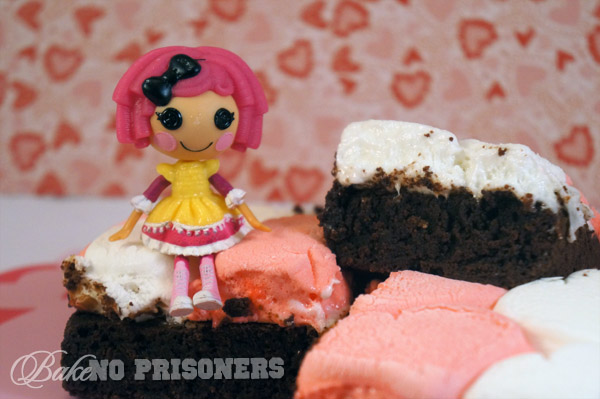 As a teacher, it is my academic duty to be totally up to date on all the latest toys, dolls, and video games(at least, that is what I tell myself when I am perusing the toy department)…..soooo my mini lalaloopsy doll just had to make an appearance on the blog.