We are at the half way mark of our countdown and I cannot wait to share the awesome Harry Potter news that I have! My amazing  hubster, the man of my dreams, my love, my best friend…in short, the greatest man in the world….has pre-ordered me this!

That's right fellow Potterheads…On September 7th I will have my very own limited and numbered edition of the Harry Potter Wizard's Collection.  Amazon says this about the vast collection,"The most comprehensive Harry Potter movie collection yet features all eight films, exclusive never-before-seen content and must-have memorabilia. This new limited and numbered 31-disc collection contains all eight Harry Potter movies on Blu-ray, DVD and UltraViolet Digital Copy and more than 37 hours of special features including all previously released materials and more than 10 hours of new to disc bonus content, and 5 hours of never-before-seen material. In addition to the theatrical release of every film, the collection also includes the extended versions of  Harry Potter and The Sorcerer's Stone and Harry Potter and the Chamber of Secrets; and the 3D versions of Harry Potter and the Deathly Hallows –- Parts 1 and 2."
I don't mean to brag, but I am super excited about it. Anybody else out there planning on getting one?
I first saw these cupcakes over at Bakingdom. Darla is so very creative and I absolutely love how she came up with these cupcakes from the store window of Honeydukes over at the WWOHP.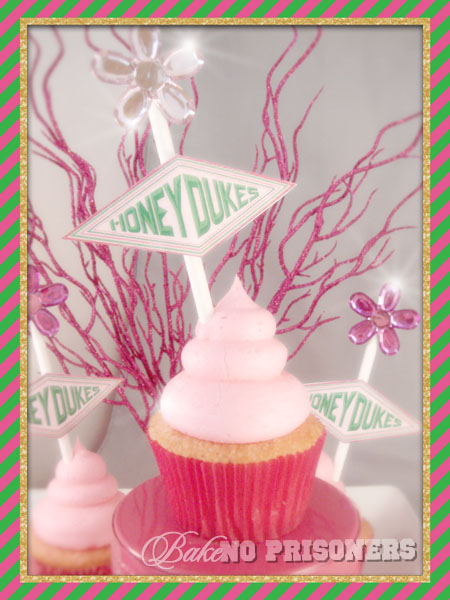 I tweaked the recipe just a bit by adding cotton candy spinning sugar instead of cotton candy and I also used the cotton candy flavoring that I had just ordered from Layer Cake Shop. Be careful when you are using flavoring oils….a little goes a long way!!
Honeydukes Candyfloss (Cotton Candy) Cupcakes
Makes about 1 dozen
Ingredients
FOR THE CUPCAKES
1 1/2 cups all-purpose flour
1/2 cup sugar
1 1/2 teaspoons baking powder
1/2 teaspoon salt
1/2 cup (1 stick) unsalted butter, at room temperature
1/2 cup sour cream
1 egg, plus 2 egg yolks, at room temperature
1 teaspoon vanilla extract
1/2 cup cotton candy spinning sugar (I used strawberry flavor)
Preheat the oven to 350 degrees. Line a muffin pan with paper liners and set aside.
In a large bowl, or the bowl of a standing mixer, combine the flour, sugar, baking powder, and salt. Add the butter, sour cream, egg, yolks, and vanilla and beat until smooth. Scrape the bowl to make sure it's combined, then stir in the cotton candy sugar until evenly distributed.
Place three tablespoons of batter in each of the paper liners int he prepared muffin pan. Bake for 18 to 22 minutes, until a toothpick inserted in the center comes out clean. Transfer to a wire cooling rack and allow to cool completely before frosting.
Honeydukes Candyfloss (Cotton Candy) Buttercream Frosting
Makes 12 ounces
Ingredients
FOR THE FROSTING
5 -7 drops cotton candy flavoring(use sparingly)
1cup (2 sticks) unsalted butter, at room temperature
2 cups confectioners' sugar (or more to reach desired consistency)
1/2 teaspoon vanilla extract
In a large bowl, or the bowl of a standing mixer, cream together the butter and sugar until thoroughly combined. Stir in the vanilla and cotton candy flavoring. Beat on medium high until light and fluffy, about 45 seconds, adding the remaining cream, if necessary.
Cupcake recipe adapted from Bakingdom.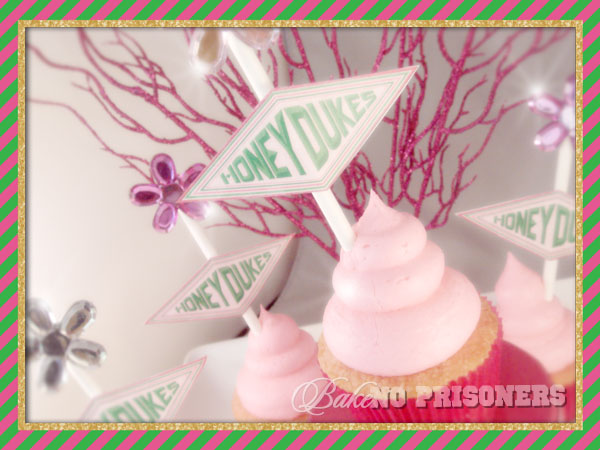 Two of my favorite quotes from Hermione from Harry Potter and the Order of the Phoenix. (I am currently rereading this one!)
"Just because you have the emotional range of a teaspoon doesn't mean we all have."
"All those poor elves I haven't set free yet, having to stay over during Christmas because there aren't enough hats!" -Hermione Granger"