I love the rain. I often tell the Hubs that I could totally pull off living in a London flat. All I would need is a super cute pair of Kate Spade rain boots and an umbrella that even Mary Poppins would approve of. Then I could go splashing through all the puddles on my way to the local bakery. Oh, and while I sat eating my chocolate croissant, I could check out the latest Doctor Who filming down the street. Cuz you know that would totally happen. Obviously.
So today was one of those days where I totally pretended that I lived in that imaginary London flat and baked while the rain came down.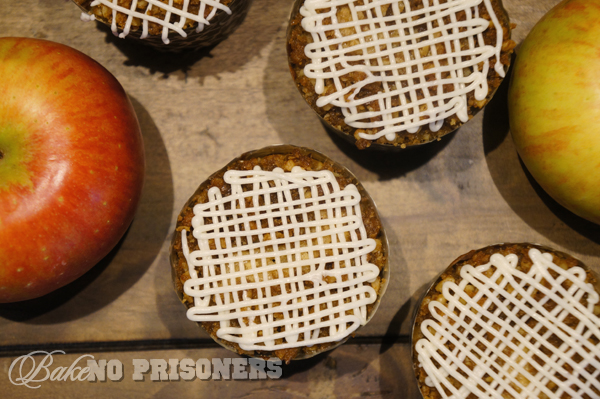 I had some leftover apple cider from our orchard trip, so I decided to bake up these baby apple cakes. To spice things up, I topped them with a simple walnut streusel and added a drizzle of cinnamon cream cheese icing. Best. Fall. Dessert. Ever.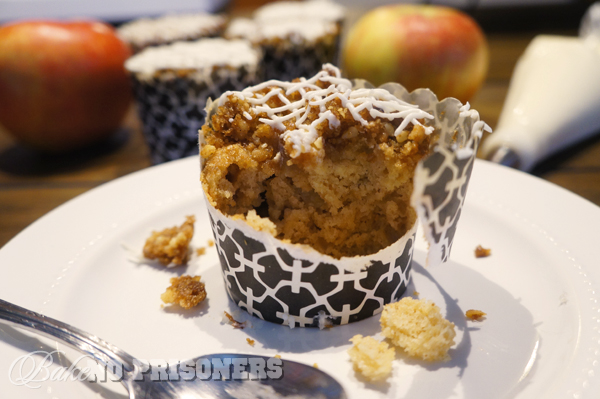 Apple Cider Cakes with Cinnamon Cream Cheese Frosting
Ingredients
Apple Cakes:

1 1/2 cups all purpose flour
2 teaspoons baking powder
1/2 teaspoon salt
1 teaspoon cinnamon
1/2 teaspoon nutmeg
1/2 cup granulated sugar
1/4 cup butter, softened
1 egg, at room temperature
1 teaspoon vanilla extract
1/2 teaspoon cinnamon extract
1/2 cup sour cream
1/2 cup apple cider
1 medium apple, skin removed, chopped

Walnut Streusel:

1/2 cup light brown sugar
1/2 cup walnuts, chopped
1/2 teaspoon cinnamon
2 tablespoons melted butter

Cinnamon Cream Cheese Icing:

4 ounces cream cheese, softened
4 ounces butter, softened
2 cups confectioner sugar
1 teaspoon vanilla extract
1/2 teaspoon cinnamon extract
splash of heavy cream
Instructions
Apple Cakes:

Heat oven to 350° and line a standard muffin pan with paper liners.
In a medium bowl, combine flour, baking powder, salt, cinnamon, and nutmeg.
In your stand mixer bowl, beat butter and sugar until light and fluffy.
Add your egg and extracts; scrape the sides of the bowl and continue to combine.
Add sour cream and mix well.
Alternating, starting and ending with the flour mixture, add a little flour mixture and then apple cider.
Fold in chopped apples.
Spoon mixture into your paper liners and bake for 15 minutes; total bake time will be 25-30 minutes, however you will need to pull them out early to top with streusel.

Walnut Streusel:

In a small bowl, combine light brown sugar, chopped walnuts, cinnamon and butter with a fork.
Top apple cakes with streusel after 15 minutes and allow them to bake for an additional 10-15 minutes.

Cinnamon Cream Cheese Icing:

In your stand mixer bowl, combine cream cheese and butter and mix until light and fluffy.
Add in your extracts.
Slowly add in your confectioner sugar and beat well.
If it is too thick, thin it out with a splash of heavy cream or milk.
http://www.bakenoprisoners.com/wordpress/index.php/apple-cider-cakes-with-cinnamon-cream-cheese-icing/