These cupcakes are by far my favorite! They require a few steps, but are totally worth it. I make them every year around Halloween and even brought them into my classroom to share with my students last year. What is totally rad about my school is that in late October, each classroom picks a book to represent. We get to decorate our door, dress up, and the upper school students come down to our building and have games and events relating to our book. Last year, we choose Harry Potter and the Chamber of Secrets. The hubster drew a 2 ft. Harry Potter flying on a Nimbus 2000 chasing a golden snitch for our door and the students had to color themselves on brooms and paste on a photo of their face on the body. So when it was finished, there was the large Harry in the middle with 25 smaller students on broomsticks flying around him. Our school also has a contest for the best looking door and we won for our grade level! Yeah! When the upper school students came down, they had all my fourth graders try on the Sorting Hat to see what house they would be in and then we played a game of Quidditch in the halls. So fun!
So now onto the clip of the day…going in sequential order, we are now on Harry Potter and the Prisoner of Azkaban. Now I realize this is the movie where we are first introduced to Sirius Black and I should be posting a clip about him, but I love this clip of Hermione punching Draco. It is just classic! Enjoy!

Mmmmm…Butterbeer cupcakes…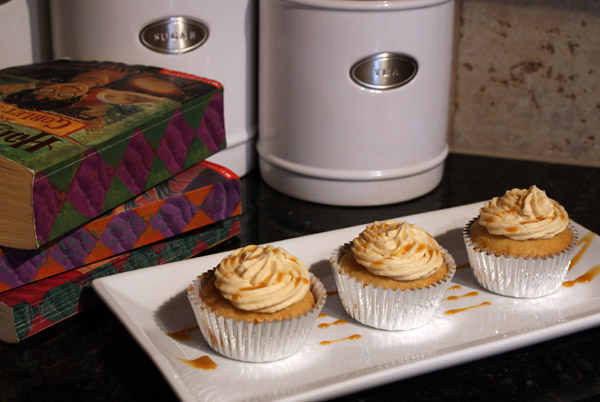 Recipe by AmyBites
Butterbeer Cupcakes
Makes 18
.
For the cupcakes:
2 cups flour
1 1/2 teaspoon baking powder
1/2 teaspoon baking soda
1/4 teaspoon salt
1/2 cup (1 stick) unsalted butter, softened
1/2 cup granulated sugar
1/2 cup dark brown sugar, packed
3 large eggs
1 1/2 teaspoon vanilla
1 teaspoon butter flavoring
1/2 cup buttermilk
1/2 cup cream soda
For the ganache:

1 11-oz. package butterscotch chips
1 cup heavy cream
For the buttercream frosting:

1/2 cup (1 stick) unsalted butter, softened
1/3 cup butterscotch ganache
1 teaspoon vanilla
1 teaspoon butter flavoring
1/8 teaspoon salt
1 16-oz. package powdered sugar
Splash of milk or cream (as needed)
For the cupcakes: Preheat the oven to 350 degrees and line cupcake pans with paper liners. Combine your flour, baking soda, baking powder, and salt in a bowl and set aside. In a large bowl, cream your butter until light and fluffy. Add your sugars and beat until well-combined. Beat in your eggs, one at a time, mixing well after each addition. Then beat in your vanilla and butter flavoring.
Alternate adding your buttermilk, cream soda, and dry ingredients in batches until all are well incorporated. Fill each cupcake liner 3/4 full, then bake for 15 to 17 minutes until a tester inserted into the center comes out clean and cake springs back to the touch. Cool completely on wire racks.
For butterscotch filling: In a double boiler (heat-proof bowl over a pot of simmering water on the stove), combine butterscotch chips and heavy cream and stir until completely combined and smooth. Cool to room temperature. Fill a squeeze bottle with ganache and insert into the center of each cupcake, squeezing until filling begins to overflow.
For buttercream frosting: Cream butter in a large bowl until fluffy. Add in ganache, vanilla, butter flavoring, and salt and mix until well combined. Beat in powdered sugar 1 cup at a time until reaching desired consistency. Add milk or cream by the Tablespoon as needed. Frost cupcakes and top with a drizzle of butterscotch ganache.
"It's cruel that I got to spend so much time with James and Lily, and you so little. But know this; the ones that love us never really leave us. And you can always find them in here." ~Sirius Black