Number 2 on our countdown is Harry's favorite treat…Treacle Tarts!! They would have been higher on the list, but I have had some difficulty with the various treacle tart recipes that are floating around on all the baking blogs. I adapted the one below from Bakingdom (I want to be like her when I grow up! Ha!) but I used my Mom's pastry crust recipe. It has never let me down and I have it practically memorized. Treacle is a sweet syrup that is derived during the processing of cane sugar and I was fortunate to find a light treacle, otherwise known as golden syrup at World Market. Unfortunately, I used a new mini tart pan to make the treacle tarts and I just haven't got it perfected yet. They tasted pretty yummy, but I would have preferred more treacle and less crust. Either way I ran out of time and couldn't make them again in time for this post, so here you go! (I promise to keep trying for Harry's sake and post when I finally get it!)
The clip of the day comes from Harry Potter and the Deathly Hallows Part I. It is the scene where Harry, Ron, and Hermione are attacked in the cafe…and Hermione…like always, is prepared in more ways than one!
 
Treacle Tart
Makes one 9 inch tart, or 2 dozen tartlets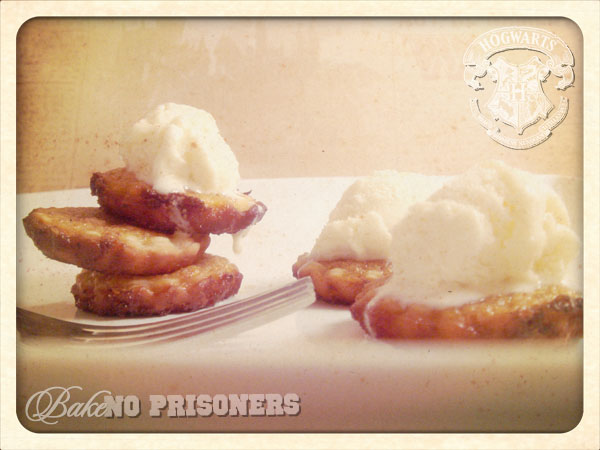 Ingredients
FOR THE CRUST
1 1/2 cups all-purpose flour
1/3 cup confectioners' sugar
1/4 teaspoon salt
1/2 cup (1 stick) cold, unsalted butter, cut into 8 pieces
3-4 tablespoons ice water
FOR THE FILLING
14 oz. golden syrup
2 eggs
finely grated zest and juice of 1 small lemon
3/4 teaspoon all spice
2 tablespoons heavy cream
1 cup fresh bread crumbs
For the crust: In the food processor, combine the flour, sugar, and salt with 2 or 3 pulses. Evenly distribute the cold butter over the flour mixture and and pulse 10 to 15 times, until the mixture resembles coarse corn meal. Sprinkle 1 to 2 tablespoons of the cold water over the flour mixture, and process with 4 to 5 pulses. After processing, the mixture should look sandy. Transfer the mixture to a large bowl. Sprinkle another tablespoon of the water over the mixture and use a rubber spatula to press the dough together. When the dough looks shaggy and a bit dry, but holds together, turn it out onto a lightly floured surface and knead 3 or 4 times until the dough comes together completely. Add more water, up to 1 tablespoon, as needed. Handle the dough as little as possible to prevent melting the butter.
Continuing to handle the dough lightly, shape it into a disk six to seven inches across. Wrap the disk in plastic wrap and chill in the freezer for 30 minutes, or the refrigerator for at least two hours.
Once chilled, Place the dough on a lightly floured surface. If making many small tartlets, work with half of the dough at a time. Roll the dough to about one-eighth of an inch thick. Line tart pans as directed above.
Place the tartlets on a baking sheet and chill for at least 30 minutes, preferably in the freezer.
Preheat oven to 350 degrees.
Once chilled, line the tarts with bits of foil or parchment and fill each one with a small amount of pie weights or dry beans. Bake mini tartlets for 15 minutes. Bake a full size tart for 20 minutes. Allow to cool completely before filling.
For the filling: Combine all of the ingredients in a medium bowl and pour into the cooled tart crust.
Bake for 20 minutes (for tartlets), or about 30 minutes (for a standard tart), or until the filling has set.
Allow to cool completely before serving. Serve with vanilla ice cream or fresh whipped cream.