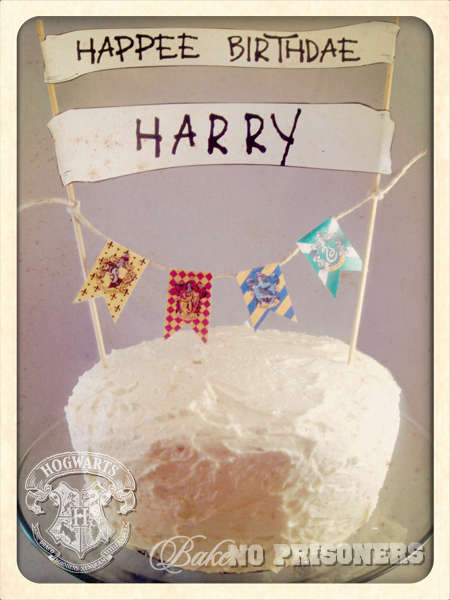 Ok… so this is not technically the birthday cake that Hagrid made for Harry all those years ago in the Sorcerer's Stone, but it is Harry's birthday (and the awesome Ms. J.K. Rowling) and that gives us reason to celebrate!
Harry turns a whooping 32 today…only 1 year younger than me.

I was hoping in my small backwoods town that there might have been a Harry Potter fan club getting together tonight in Harry's honor, but to my knowledge I don't believe they exist outside of Charlotte…well, at least not in my age group. So I planned to have my own little cyber birthday party right here for "the boy who lived".
To prepare for the party, I bewitched the vacuum (Roomba) to sweep up around the "the burrow", hung banners over the fireplace that sparkle, and recreated this amazing 4 layer Hogwarts Spice cake without magic thanks to Bakingdom…one layer to represent each house at Hogwarts.
Speaking of houses, if I had ever received my letter to Hogwarts and had the opportunity to try on the Sorting Hat, I am confident that it might have been confused on where to put me. I believe my geeky side might have persuaded the hat to put me in Ravenclaw, but my courage to be who I want to be would place me in Gryffindor. Ultimately, I would prefer to be with Harry, Ron, and Hermione in the Gryffindor house. Oh how I love my fantasy world….
Back to reality…
This cake is a nice segway  back to the real world.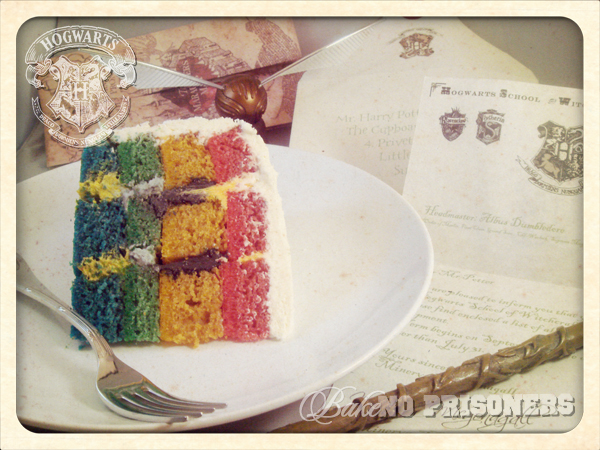 Anyway – Harry,' said the giant, turning his back on the Dursleys, 'a very happy birthday to yeh. Got summat fer yeh here – I mighta sat on it at some point, but it'll taste all right.'
From an inside pocket of his black overcoat he pulled a slightly squashed box. Harry opened it with trembling fingers. Inside was a large, sticky chocolate cake with Happy Birthday Harry written on it in green icing.'
- Chapter Four, The Keeper of the Keys, Harry Potter and the Philosopher's Stone