My fourth grade students just finished up an introductory unit on Chemistry and to make things interesting, I challenged them to memorize "The Elements" song by Tom Lehrer. If you have never heard of Tom, he was a brilliant mathematician and singer/song writer who wrote the now legendary song, where he sets the names of the chemical elements to the tune of the"Major-General's Song" from Gilbert and Sullivan's Pirates of Penzance. As a reward, students earned a pink lemonade cupcake courtesy of yours truly!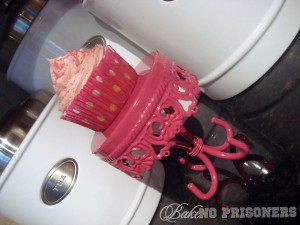 Well I made quite a few cupcakes this weekend and used the left over cupcakes to make these! I saw them over at Bakingdom a few days ago. She had quite creatively developed Star Wars themed cake push pops. I, myself, plan to piggy back off her idea and create The Avengers cake push pops in the near future, so be on the lookout!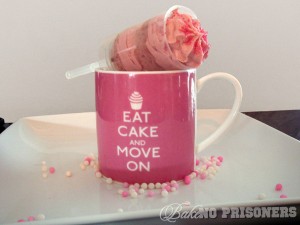 If you are interested, below is the link to "The Elements" song! After several weeks of practice, I can sing it now too!
The Elements Song by Tom Lehrer
Pink Lemonade Cupcakes – from Sweet Cheeks – makes 20 cupcakes
Ingredients:
2 c. all-purpose flour
1 tsp. baking powder
1/2 tsp. baking soda
Pinch salt
1 c. granulated sugar
1/2 c. vegetable oil
4 egg whites
2/3 c. thawed frozen Pink Lemonade Concentrate
1/2 c. buttermilk
Pink food coloring
Directions:
Preheat oven to 350F. Line muffin pan with liners. In a small bowl, combine flour, baking powder, baking soda and salt. Set aside.
In a large bowl, whisk together sugar, oil, egg whites and lemonade concentrate. Alternately whisk in flour mixture and buttermilk, making three additions of flour mixture and two of buttermilk, beating until just smooth.
Add just enough food coloring to turn the batter a light shade of pink.
Scoop batter into liners (fill about three-fourths full). Bake in preheated oven for 20-25 minutes or until tops of cupcakes spring back when lightly touched. Let cool in pan on rack for 10 minutes. Remove from pan and let cool completely on rack. Top cooled cupcakes with frosting (see below).
Lemonade Buttercream
3 c. + 3 Tbsp. confectioner's sugar
1 stick unsalted butter at room temperature
1/8 tsp. salt
2 Tbsp. pink lemonade concentrate
Milk to reach desired consistency
Pink food coloring
Add the butter, confectioner's sugar, salt, lemonade concentrate, and a few drops of food coloring to the stand mixer and mix on low using the paddle attachment until combined.
Turn the speed to med-high until the buttercream is fluffy and uniformly pink. Pipe or spread onto cooled cupcakes.
Courtesy of Beantown Baker