Happy Independence Day! I know it has been over a month since my last post, but I promise you I have a good excuse. Let me start at the very beginning. When I first decided to take on Bake No Prisoners, my idea was to create or take on recipes that had a focus on healthy, natural ingredients, instead of processed, high in fat components. But as I got started, I focused only on how my recipes tasted because I was afraid I would get poor feedback on my own creations or the ones I recreated in my kitchen. This led me down a slippery slope of using loads of butter, sugar, and oil, all of which are great in moderation, but that's not what I was doing.  In fact, because I tried so many of my tasty creations, I packed on a few pounds these last few months, but I am proud to say I am down 17 of those evil, nasty pounds thanks in part to The Dukan Diet.
I also admit that I had a lot of research to do before I could just "create" my own recipes. I had to hone in on what flavors and foods went well together and develop the basic and very necessary skills of cooking and baking. I am still not there, so I have decided to take you on this journey with me. All week long I have been taking either cooking or baking recipes from various chefs, cookbooks, or magazines and trying them out…seeing what I liked, what worked, or what I did wrong and taking pictures of the final product, good or bad. I have also been writing down my current cooking/baking/life goals that I want to share with you and to help hold me accountable. Since I just turned 32(my husband will tell you I am 29), I have come up with 32 hopefully attainable goals to achieve before I turn 33. Check them out and then check out the delicious and not very healthy 4th of July cake my husband and I made together to celebrate our country! This is the last fattening recipe for awhile, I PROMISE!! (Special occasions excluded, of course)
32 while 32
Food/Blogging:
1. Make 3 types of bread (Sarabeth's Bakery has a ton of various bread recipes and ideas).
2. Develop a tart crust as good as Paulette's (The Whirling Whisk…great stuff!).
3. Use 5 ingredients that I have never worked with before—suggestions welcomed.
4. Post a new cooking/baking adventure once a week.
5. Take one recipe from every cookbook I have bought in the last year and recreate it in my kitchen to post on my blog.
6. Become more decorator savvy when it comes to desserts, cakes, and pies.
7. Create a homemade blackberry pie for my favorite FIL.
8. Make a birthday cake for my husband that looks like a cheeseburger. (That I will post on the 15th of July, so be on the lookout).
9. Hone in on my egg skills—make eggs Benedict, poached eggs, omelets, sunny side up, etc…
10. Hold Thanksgiving or Christmas dinner (your choice Mom) and finally learn how to make good gravy.
11. Try out 1 new restaurant a month and if it is good and write a review on it and post it on the blog.
12. Soups –not a big soup person, so I would like to make my Mom's chicken soup, clam chowder, corn chowder, and lobster bisque.
13. Develop 5 new cupcake flavors.
Relationships:
14. Start my own Women's Life Group at church.
15. Develop new friendships at my new school and with my 4th grade team.
16. Remember to send birthday cards to all my friends and family on time.
17. Monthly Girls Bunco/Poker night anyone?
18. Volunteer on a weekly, if not, bi-weekly basis – Sunday school, soup kitchens, etc.
19. Visit my FL home more often.
Educational/Random:
20. Reread all Harry Potter books just for fun.
21. Research 4th grade at PLP and work closely with my teaching mentor.
22. Really think about getting my Masters and put things in place for the following year.
23. Become more open minded to the movies/activities that my hubby is interested in.
24. Pay off my car.
Healthy Living:
25. Lose 20 more lbs.
26. Run a 5K and a 10K.
27. Go to the spa for a facial and a massage.
Travel and Entertainment:
28. See the Blue Man Group.
29. Go to another musical – Cats, Wicked, Rent… whatever!
30. Spend a few days at Ocracoke Island.
31. Go white water rafting and zip lining at the U.S. National White Water Center.
Reader's Choice
32. I'm one goal short of 32, so I thought I'd add a reader's choice item. Leave a comment here with something you'd like to see me do. Whether it's a recipe to try or an activity or festival to go to, just let me know in the comments below. I will sit down and choose one from the comments within the next few weeks and I'll include it in my one month update in August.
And as promised…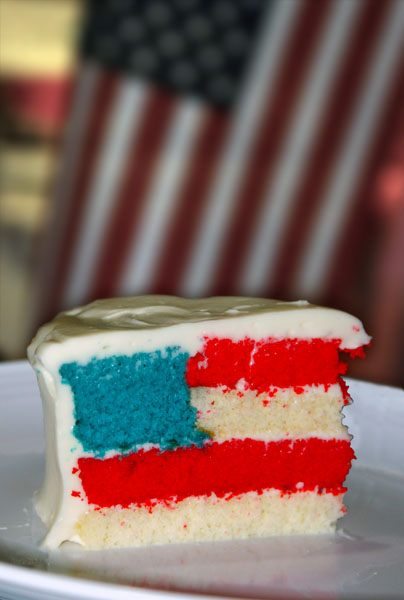 Americana Key Lime
courtesy of Secret Life of a Chef's Wife
The only difference I made to this cake was I added 2- 2 1/2 tablespoons of key lime juice to the frosting to give it some zest, otherwise great job Elissa for this amazing cake idea!!