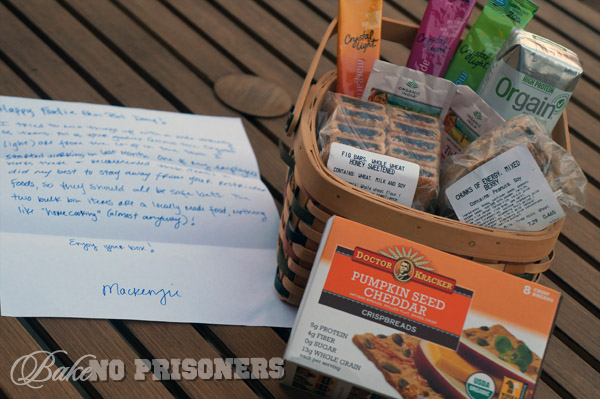 It's that time of the month again…FOODIE PEN PALS! Of course, this comes at a totally erratic and crazy time for me. I am currently trying to plan and organize (along with my awesome 4th grade team) an outdoor, overnight classroom trip that leaves Thursday, complete 1st term report cards by tomorrow, make chocolate cakelets for a team member who has been ill, grade papers, clean house, blog, read the new J.K. Rowling book, coach Girls on the Run and teach!! All of this can wear a girl out!! Even Wonder Woman would have had difficulty keeping up with my to-do list these days!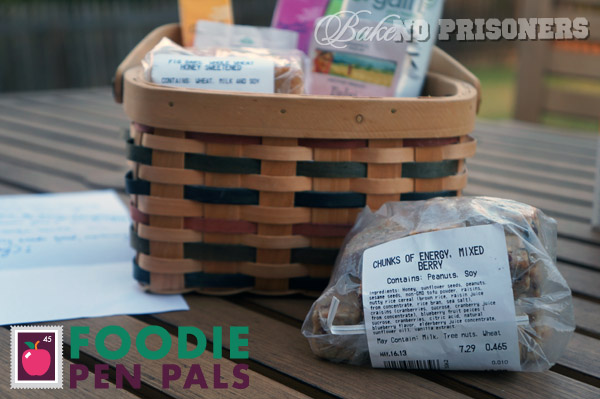 So when Mackenzie from Wealth is Health sent over her Foodie Pen Pal package this month, I was so excited to see that she had included these amazing energy bites among all of the other goodies. I had heard of energy bites before, but had never actually tried one. They were packed full of flax seeds, berries, pumpkin seeds and oatmeal, while held together with peanut butter and honey. They were sweet, nutty, and oh so good for you. So after I gobbled them up (in a matter of days, mind you), it got me thinking…how does one make energy bites?
To my surprise, it's not as hard as you might think! First, you have to think of a type of theme you want your energy bites to be. The ones in my FPP package were mixed berry energy bites. So I thought since I was on this ginormous pumpkin fix, I would make some sort of pumpkin spice energy bites. Then, you have to choose the type of seeds, nuts, dried fruit, or chocolate chips you want to add. I choose old fashioned oats, flax seeds, pumpkin seeds, sesame seeds, and walnuts. Next up are your spices. I added cinnamon, nutmeg, cloves, and pumpkin spice. Finally, to hold your energy bites together, you will need peanut butter and honey, a bit of vanilla, and to make it a bit naughty, I rolled my bites in white chocolate. (Although my friend, the music teacher, says that white chocolate is good for you in moderation…something about antioxidants).

My pumpkin spice energy bites lasted about as long as the ones Mackenzie sent me (mostly because I shared with my teacher friends), but at least now I know how easy it is to make them! Thanks Mackenzie for the foodie inspiration!
By the way, Foodie Pen Pals turns 1 today! I stumbled upon the Lean Green Bean by accident a few months ago! They have over 1,000 foodies and bloggers alike from around the globe that send foodie packages once a month to an assigned pen pal. Every month you get a new pal, so it is a great way to network and make friends, not to mention try out the food fare from around the nation. If you are interested, please take a moment to visit Lindsay over at the Lean Green Bean!
Pumpkin Spice Energy Bites
Ingredients:
1/2 cup Peanut Butter & Co. White Chocolate Peanut Butter
1/4 cup pumpkin puree
1/3 cup honey
1/4 teaspoon vanilla
1/2 teaspoon cinnamon
1/2 teaspoon pumpkin spice
1/4 teaspoon nutmeg
1/4 teaspoon cloves
1 cup old fashioned oats (uncooked)
1/2 cup golden flax seeds
1/2 c ground pepitas (pumpkin seeds)
1/2 cup ground walnuts
2 tablespoons sesame seeds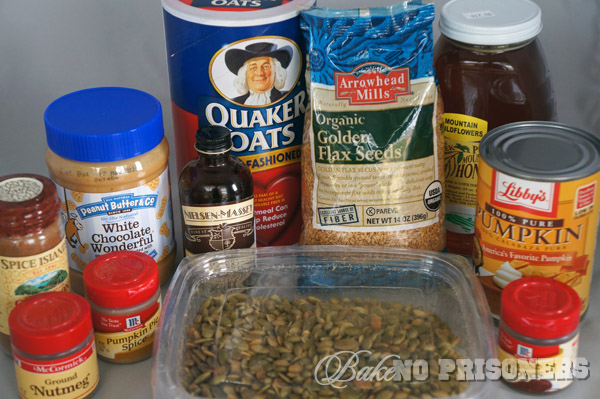 Directions:
1. Combine the peanut butter, pumpkin puree, honey, and vanilla in your standing mixer. Mix until ingredients are well blended.
2. Combine the pepitas and walnuts in a food processor, and pulse until smooth and combined.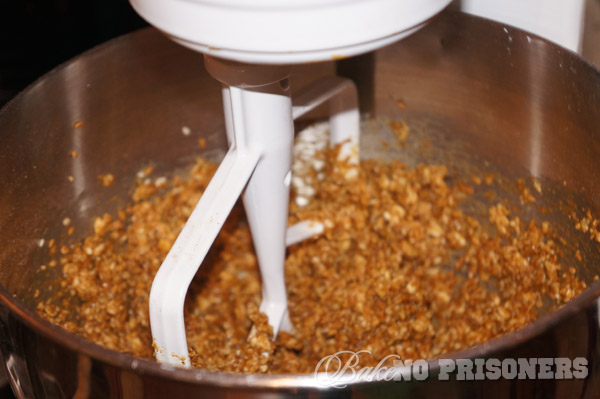 3.  With your mixer on medium low, add spices one at a time. Once blended, stir in the oats, flax seeds, pepitas/walnut mixture, and sesame seeds until evenly combined. Cover and refrigerate for at least 30 minutes.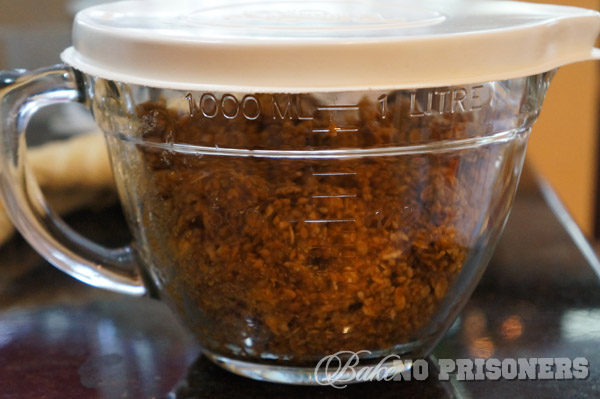 4. After your mixture is cool, use a small cookie scoop or spoon to shape your energy balls. I used a small scoop and then rolled them into balls about 1 inch in diameter. Or to make them square, like the mixed berry energy bites, you can line a small baking pan with parchment paper, and press the mixture evenly into the pan, let it cool, and then cut into bars.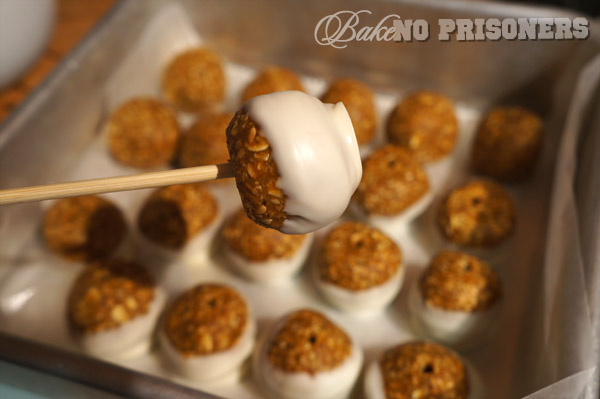 5. If you would like to dip your energy bites into white chocolate, I would suggest freezing the bites for another half hour before you skewer and dip them into melted chocolate.
6. Store in a covered container in the refrigerator for up to 2 weeks. (Storing them in the refrigerator helps the energy bites hold their shape.)