I hope everyone had a wonderful Independence Day! The hubs and I decided to stay home this year, as neither one of us are particularly fond of crowds. Plus, if we really wanted to see some fireworks, then all we had to do was walk outside our front door. It's that simple thanks to our small town life!
Ok…I don't typically vent, but this has become a major pet peeve of mine.
So I took the kiddos to our local theme park last Monday for some roller coaster fun. They are old enough to walk around by themselves, so while they were riding rides, I hung out near the pool reading my latest in my long list of must-reads. At one point, I walked up to the concession stand and bought myself a bottled water and fruit cup. Ok…so here comes my pet peeve. The fruit cup was the size of Mt. Everest! No lie. It was big. HUGE.  For $3.99, I had enough strawberries, cantaloupe, and honey dew melon for not just a snack, but also for my breakfast and snack the next day. Not to mention, the size of the "bite-size" fruit pieces had to be cut into 2-3 smaller pieces before I could even put them in my mouth.
Is it not possible to pay $1.99 for a snack size portion of fruit with bite size pieces? Why is it that we Americans have to have the super-size of everything? Or the need to buy the "extra-value" meal? Almost every time the Hubster and I go out to eat, I am asking for a to-go box. Sometimes I remember to eat the leftovers and sometimes I totally forget…thus wasting food aaaand money. I would rather pay a smaller price for a smaller plate. Truth.
WHEW. Alright, I am done ranting. I feel loads better.  Now onto cookies.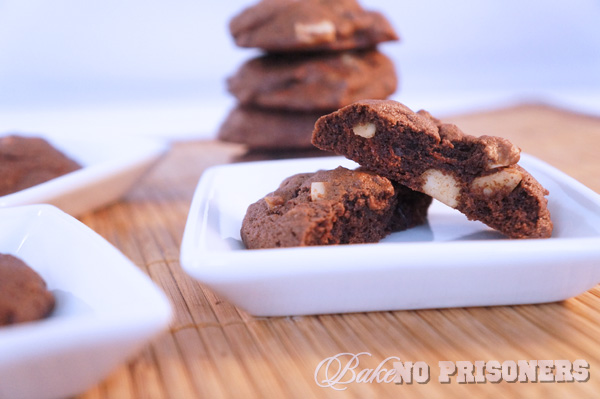 These cookies are the perfect summer snack. They are crunchy and chewy and who doesn't love chocolate and cherries together. I was in a total chocolate craze when I came up with the idea. And AND these cookies literally took 15 minutes to put together.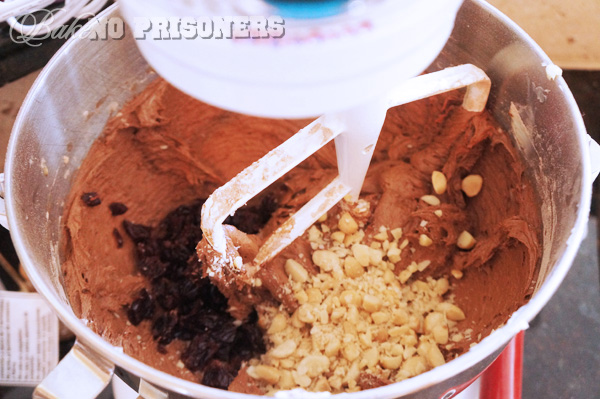 I made sure to coarsely chop the cherries and macadamia nuts beforehand to give the cookies some crunch-a-riety.
Yeah. I totally made that word up, but I love it and I'm usin' it.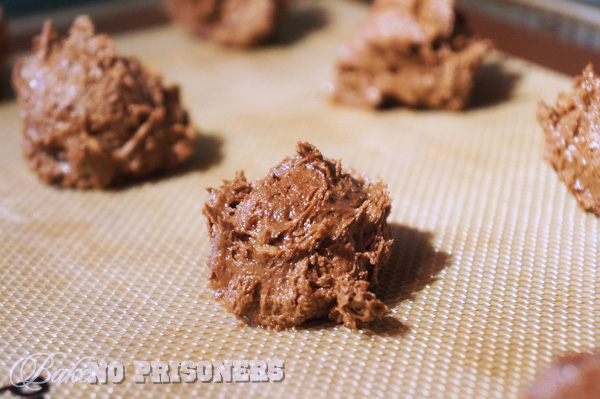 I love the idea of tart cherries paired with chocolate.
It gives it a nice contrast from the traditional sweet velvety goodness of the chocolate cookie.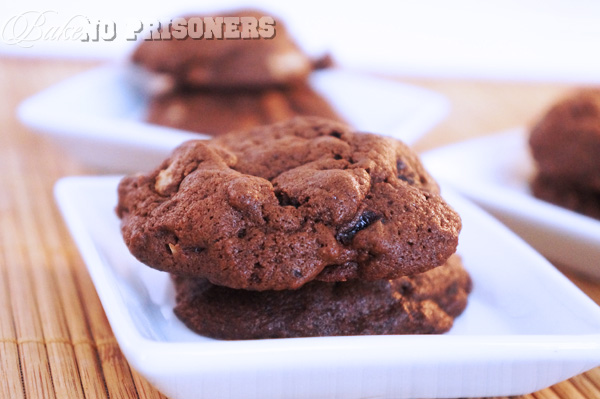 Chocolate Cherry Macadamia Nut Cookies
Ingredients
3/4 cup butter
1 cup granulated sugar
2 eggs
1 1/4 cup flour
1/2 cup cocoa
1 teaspoon vanilla
1/2 teaspoon baking soda
1/4 teaspoon salt
1/2 cup macadamia nuts, coarsely chopped
1/2 cup tart cherries, coarsely chopped
Instructions
Preheat oven to 350 degrees and line your cookie sheet with parchment paper or a silapat.
In your stand mixing bowl, combine butter and sugar until light and fluffy.
Add one egg at a time to the mixture until well combined.
Add vanilla to your butter mixture.
In a medium bowl, combine flour, cocoa, baking soda, and salt.
Slowly add your flour mixture to your butter mixture, a little at a time until combined.
Fold in your macadamia nuts and tart cherries.
Drop tablespoon sized cookie drops onto your baking sheet and bake for 10 minutes.
Let cookies cool on a wire rack for several minutes.
http://www.bakenoprisoners.com/wordpress/index.php/chocolate-cherry-macadamia-nut-cookies/