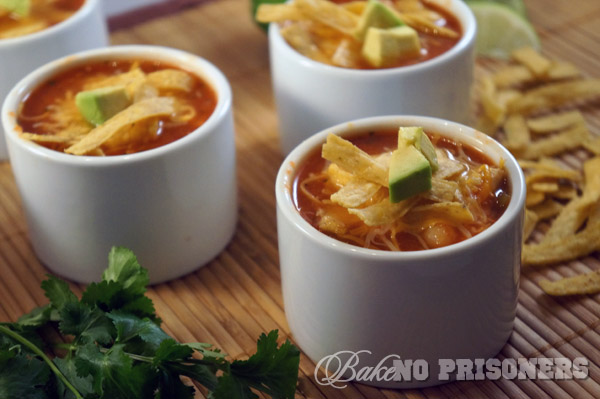 Ever since I made chicken soup with my Mom over the winter break, I have been wanting to come up with something a bit more exotic in the terms of soup. I am not overly excited about soup in general, but I thought if I could create a soup that I would enjoy, then other people who put soup low on their favorite foods list, might like it as well. I love my Mom's chicken soup because I grew up having it for dinner and it reminds me of all the fond memories we had as a family sitting around the kitchen table. I am also in love with her homemade biscuits and honey she makes to go along with it. I can eat an entire bowl of her chicken soup, along with 3-4 biscuits and honey any day of the week.
No lie…I can…
Don't dare me….because I will do it.
So I thought about the soups I don't mind very often. Two came to mind. Chili…which isn't necessary a soup, but whatever. It totally counts in my book because it is not only served in a bowl, but is also eaten with a spoon.  And Chicken Tortilla soup with all its crunchy and spicy goodness. And what if I combined the best parts of these two soups. You've got the beans, cheese, and onions from the chili. And the chicken, green chilies, and tortilla strips from the Chicken Tortilla soup. Combined is absolute yummy deliciousness – to quote one of my students.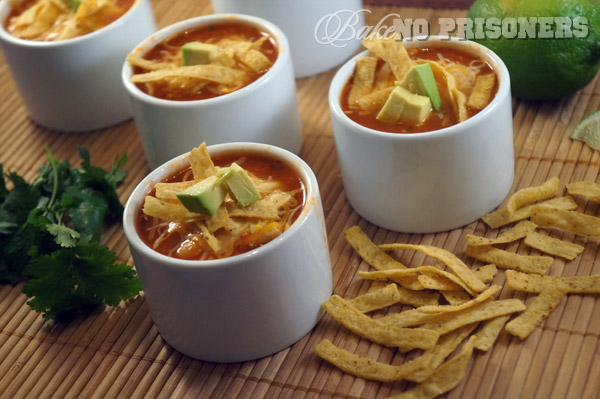 Ingredients
3 boneless chicken breasts
3/4 cup chicken broth
3 garlic gloves, minced
1 yellow onion diced, or in my case 1/2 teaspoon asafetida due to the hubster's onion allergy
1 teaspoon cumin
1 teaspoon Tabasco Green Pepper sauce
a few sprigs of cilantro
2 15 ounce cans diced tomatoes, juice included
2 cans of white beans - great northern/cannellini
1 4 ounce jar chopped green chilies
1 cup frozen corn
1/2 cup shredded Mexican cheese blend
1 avocado, sliced
1/2 lime, squeezed
tortilla strips
Instructions
In your blender, empty your cans of diced tomatoes and all the juice, garlic, onion or asafetida, cumin, cilantro Tabasco, and chicken broth. Blend until all ingredients are incorporated into a thick sauce.
Salt and pepper you chicken breasts and then place in your crock pot. Pour your sauce over the chicken and cook on high for 3 hours.
When chicken is tender, shred with a fork.
Drain the white beans and add to your crock pot, along with the green chilies and frozen corn. Squeeze half a lime as well into your pot and let it continue to simmer for another 30 minutes.
After 30 minutes, spoon chili into your bowl and top with cheese, tortilla strips, and avocado. Enjoy!
http://www.bakenoprisoners.com/wordpress/index.php/chicken-tortilla-chili/