First, let me start by saying I am a HUGE Harry Potter fan! I have seen all the films, read or am reading the entire Harry Potter saga, and even have my own wand. In fact, for my birthday my husband sent me down to Universal Studios to check out the Wizarding World of Harry Potter with my brother (of whom which I am still trying to get him on the Harry Potter bandwagon). There was so much to see that I felt like I needed "8 more eyes!"
And so I am coming off of a brilliant high from a week dedicated  to all things Harry Potter. It started a few weeks ago when I found out that a local theatre would be hosting a Harry Potter marathon. It would show 2 movies a night beginning with Harry Potter and the Sorcerer's Stone and ending with Harry Potter and the Deathly Hallows Part 2 at 12:01 midnight on Friday. So each night my husband and I would begin our route to theatre 5 and choose our seats, wands in hand and watch 2 Harry Potter movies in order back to back. Many movie goers dressed up as Hogwarts students or Harry or even Bellatrix. After the showing of HP and the DH Part 1, we got to see an impromptu performance from a bunch of theatre majors from a nearby college who had dressed up like the cast of Harry Potter. On the final night of what felt like our Harry Potter summer camp, several members of our group of theatre #5 brought in many HP related food fare to share. They had Harry's favorite treacle tarts, butter beer, pumpkin juice, and even Bertie Botts Every Flavor Beans! All this brilliant food got me thinking, of course,  which led me to researching and scouring the net for other HP related foods that I could make in my kitchen. I couldn't believe how many Harry Potter cooks were out there! I was so impressed with what I found! Over the past few days I have had the opportunity of trying a few  recipes out that I want to share with you in hopes that I can drag you into the Wizarding World of Harry Potter with me (if you aren't there already).
First Pumpkin Juice…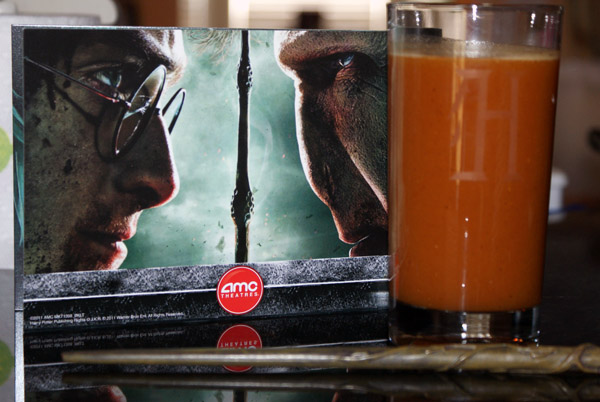 Pumpkin Juice, a favorite for feasts at Hogwarts that you can now take home with you!
Rosmerta's Recipes – Pumpkin Juice from www.mugglenet.com
Ingredients:
2 cups of pumpkin, chopped up into chunks (I used canned pumpkin pie filling for taste and texture)
2 cups of apple juice
½ cup of pineapple juice
1 teaspoon of honey (more or less to your liking)
Cinnamon, Ginger, Nutmeg and/or Allspice (all ground, to taste)
Directions:
Step 1: Juice the pumpkin pieces by squeezing through a cheesecloth or using a juicer if you have one.Step 2: Pour the pumpkin juice, apple juice and pineapple juice into a blender.Step 3: Add the honey (we recommend you start with 1 teaspoon, as you can add some later!) to the juices and blend thoroughly.Step 4: Add your spices (to taste). This might take some experimentation to get right.Step 5: Chill your pumpkin juice or serve iced and enjoy!
Then Butterbeer…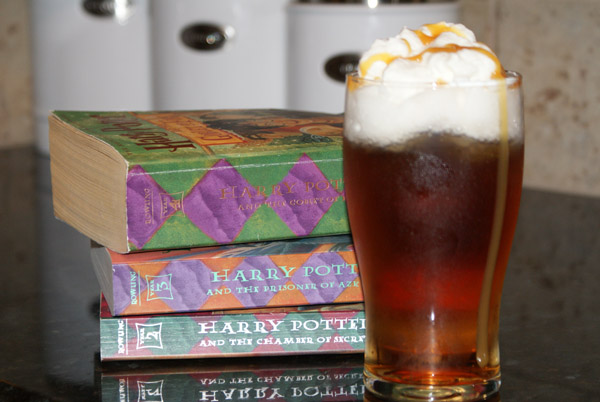 Butterbeer – by Bakingdom

Ingredients:
FOR THE BUTTERBEER:

6 12-ounce bottles chilled cream soda, substitute diet cream soda for a still yummy sugar-free version
3 teaspoons (1 tablespoon) imitation butter flavor, or 2 tablespoons clarified butter (instructions linked above **clarified butter does not always blend well with the cold beverage, see info above**)
OPTIONAL – 1 ounce light rum, per serving, for adults only
FOR THE FOAM:
2 cups heavy cream
6 tablespoons sugar, or splenda for sugar free version
2 teaspoons vanilla extract
1 1/2 teaspoons imitation butter (if using clarified butter, double the amount to 3 teaspoons, or 1 tablespoon)
To make the butterbeer: Set out 6 16-ounce glasses. Place 1/2 teaspoon of imitation butter (or 1 teaspoon clarified butter) in each glass. Pour 12 ounces of butterbeer into each glass, over the butter. Lightly stir, if necessary.
To make the foam: In a large bowl, or the bowl of a standing mixer, whip the heavy cream on medium high speed for 3-4 minutes until it starts to thicken. Add the sugar and continue whipping until very soft peaks begin to form, another 3-4 minutes (if you need to whip more or less, then be sure to do so, the times can vary quite a bit based on environment). Stir in the vanilla and imitation butter (or clarified butter), then whip for another 30 seconds or so, until soft peaks form.
Spoon a generous portion of foam on top of each glass of butterbeer, mixing gently, if desired (or spoon the foam into the bottom of the glass and pour the butterbeer over the top). Serve immediately.
Finally Butterbeer cupcakes…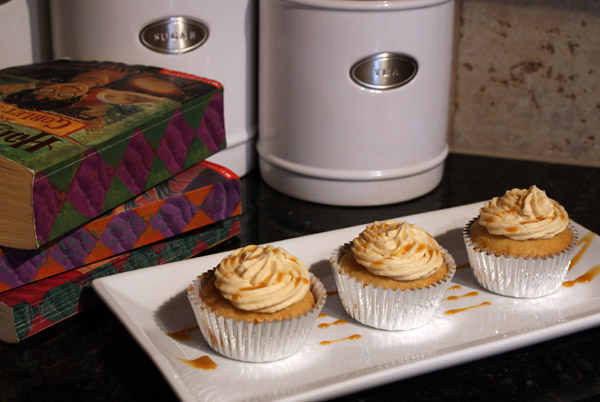 Butterbeer cupcakes by AmyBites
This recipe may have many steps, but it is totally worth it. My husband gave it a 10 out of 10! Now that is saying something!
Butterbeer Cupcakes
Makes 18
.
For the cupcakes:
2 cups flour
1 1/2 teaspoon baking powder
1/2 teaspoon baking soda
1/4 teaspoon salt
1/2 cup (1 stick) unsalted butter, softened
1/2 cup granulated sugar
1/2 cup dark brown sugar, packed
3 large eggs
1 1/2 teaspoon vanilla
1 teaspoon butter flavoring
1/2 cup buttermilk
1/2 cup cream soda
For the ganache:

1 11-oz. package butterscotch chips
1 cup heavy cream
For the buttercream frosting:

1/2 cup (1 stick) unsalted butter, softened
1/3 cup butterscotch ganache
1 teaspoon vanilla
1 teaspoon butter flavoring
1/8 teaspoon salt
1 16-oz. package powdered sugar
Splash of milk or cream (as needed)
For the cupcakes: Preheat the oven to 350 degrees and line cupcake pans with paper liners. Combine your flour, baking soda, baking powder, and salt in a bowl and set aside. In a large bowl, cream your butter until light and fluffy. Add your sugars and beat until well-combined. Beat in your eggs, one at a time, mixing well after each addition. Then beat in your vanilla and butter flavoring.
Alternate adding your buttermilk, cream soda, and dry ingredients in batches until all are well incorporated. Fill each cupcake liner 3/4 full, then bake for 15 to 17 minutes until a tester inserted into the center comes out clean and cake springs back to the touch. Cool completely on wire racks.
For butterscotch filling: In a double boiler (heat-proof bowl over a pot of simmering water on the stove), combine butterscotch chips and heavy cream and stir until completely combined and smooth. Cool to room temperature. Fill a squeeze bottle with ganache and insert into the center of each cupcake, squeezing until filling begins to overflow.
For buttercream frosting: Cream butter in a large bowl until fluffy. Add in ganache, vanilla, butter flavoring, and salt and mix until well combined. Beat in powdered sugar 1 cup at a time until reaching desired consistency. Add milk or cream by the Tablespoon as needed. Frost cupcakes and top with a drizzle of butterscotch ganache.
Additional Harry Potter links you might enjoy…
Harry Potter and the Deathly Hallows Part 2 was absolutely brilliant,s o  here's the link to the official Harry Potter website with two trailers. I highly recommend it!!
Here are some other Harry Potter treats to check out as well:
Harry Potter Dessert Menu from Ezra Pound Cake (including quite a few links at the bottom for even more Harry Potter treats)
Butterbeer Cupcakes, Cauldron Cakes, and Frozen Butterbeer all from Cook Like a Champion
Butterbeer Cookies from Bake at 350
Harry Potter cupcakes and more from Beantown Baker. She is one of my favorites!
And finally, a new recent favorite baking blogger I just love! Bakingdom Her new Hogwarts cake is my next endeavor!
"Actually I'm highly logical which allows me to look past extraneous detail and perceive clearly that which others overlook." – Hermione Granger