I have been spending all my free time lately catching up on Breaking Bad. I was never a fan when it was on because, well,  I am not a big T.V. person. But all the hubbub about the season finale a few weeks back caught my eye and I have been watching it on Netflix ever since. I mean, it is ridiculous. The other night I stayed up until midnight with an early wake up time of 5 am just to make sure if Hank, one of the characters, survived. Like I said, total crazy obsessed.
If you have never seen the show, it is about a high school chemistry teacher who finds out that he has stage 3 lung cancer. The doctors basically tell him to start making funeral arrangements and it is then that he realizes that he needs to find some way to provide for his family after he his gone. So he becomes a meth "cook" with a former student, Jesse Pinkman. After he goes to treatment and then into remission, he finds himself deep in the drug cartel and unable to escape. Gripping, isn't it??
Anyway, it has totally taken over all of my free time.  Well that, and a 14-hour Raleigh field trip and oh, preparing for first term conferences. Thus preventing me from making a post since the Monday before last.
But the wait is over, my friends. I have discovered the cookie of all cookies. The perfect fall treat. May I introduce you to…
Oatmeal Pumpkin Spice Cookies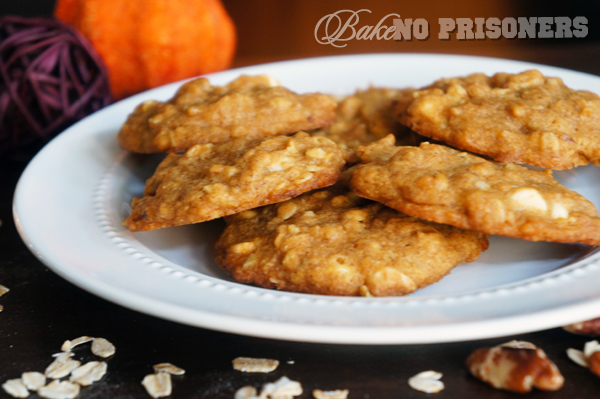 This recipe makes 3-3 1/2 dozen and let me tell you, they were gone in days. And it wasn't just me. I swear.
I think it's the combination of white chocolate chips, spices, and pecans that take this ordinary oatmeal pumpkin cookie to the extreme.
And that's when they basically became my favorite cookies ever.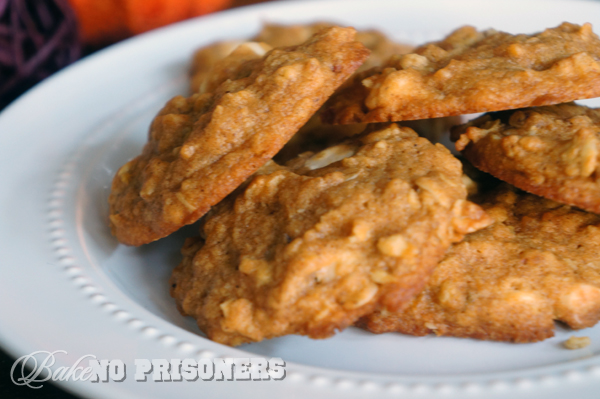 They are so addicting. It sorta reminds me of Heisenberg's infamous blue ice. They are 99.1% pure awesomeness.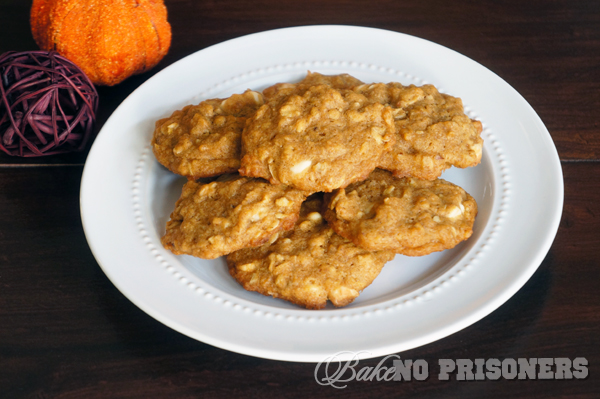 Oatmeal Pumpkin Spice Cookies
Ingredients
1 1/2 cups old-fashioned oats
2 cups all purpose flour
1 cup granulated sugar
1 cup dark brown sugar
1 teaspoon baking powder
1/4 teaspoon salt
1 tablespoons, plus 1 teaspoon baking spice or cinnamon and nutmeg
1 cup, brown butter, cooled to room temperature
3/4 cup pumpkin puree
1 egg, at room temperature
1 teaspoon vanilla extract
1 cups white chocolate chips
1/2 cup pecans, coarsely chopped
Instructions
Heat the bottom of a medium saucepan on medium heat and slice 3 sticks of butter into tablespoon-sized slices.
Add your butter to your pan and whisk continuously until butter has melted.
Your butter will foam up a bit, but continue whisking frequently until lightly browned specks begin to form at the bottom of the pan. Smell the butter; it should have a nutty aroma.
Remove from heat and place on a cool surface to help stop the butter from cooking further and perhaps burning.
Preheat oven to 350°F degrees.
Line two baking sheets with parchment paper or silicone baking mats.
In a large bowl, combine flour, baking soda, cinnamon, nutmeg, and salt together. Fold in the oats.
Once your butter has cooled to room temperature, pour into your standing mixer bowl.
Mix on low until light and fluffy; about 2 minutes.
Add brown sugar and granulated sugar.
Once combined, whisk in the egg.
Add the pumpkin and vanilla and mix until thick and completely combined.
Pour in your dry ingredients a little at a time and gently mix until combined.
Fold in your pecans and white chocolate chips.
Scoop cookie dough onto prepared baking sheets; about 2 or 3 Tablespoons of dough per cookie.
Bake cookies for 10-12 minutes until very lightly browned on the edges, and still appearing soft in the centers.
Allow the cookies to cool on the baking sheet for a few minutes before transferring to wire rack to cool completely.
http://www.bakenoprisoners.com/wordpress/index.php/oatmeal-pumpkin-spice-cookies/